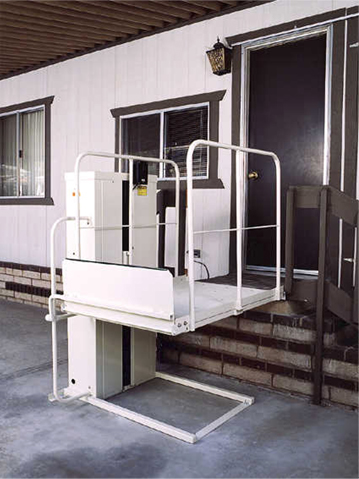 Aging-In-Place Remodeling is often called on to help a homeowner who is trying to address the difficulty they are facing with the stairs around their home. One of the more common complaints involves the steps at the front or back door. Usually there are multiple steps at these locations that our client's are finding too difficult to tackle and need a solution for safely accessing their home. In many cases the best solution has been a vertical lift.
The vertical lifts that Aging-In-Place Remodeling installs have a small footprint yet can handle almost any mobility need. Whether you are using a cane, a walker, a wheelchair or a scooter, a vertical lift can comfortably and easily lift its user to the landing right outside the door. A vertical lift is often times the perfect fit when a ramp is either going to take up too much space or is too cumbersome to use. Here are some of the features of the vertical lifts we install:
Indoor or outdoor installations
Can lift up to 50 inches
Installs in one day
Runs on household current
Virtually maintenance free
Weatherproof
Has a small footprint
5 yr. warranty
600 lbs. capacity
Competitively priced
Some of the optional features include:
72 inch lifting height
Call/Send Switches
Safety Pan
90 degree exit platform
Battery Back-up
Solid Sides
The vertical lifts we use are manufactured right here in Southern California. This allows us to get your lift installed quickly and in the unlikely event of needing a repair, parts are only a day away.
To view photos of our most recently installed porch lift, visit our portfolio.