Aging-In-Place Remodeling is a certified dealer and installer for BHM ceiling lifts. We feel that BHM has the best products and the most stringent installation requirements in the industry. BHM is constantly producing technology that helps individuals across a strong of mobility levels. This helps Aging-In-Place Remodeling to consistently be able to provide our clients with the safest, smoothest, most reliable products on the market.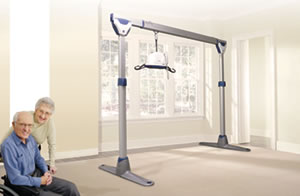 EasyTrack FS: FS is a free-standing, versatile, solution for all types of point-to-point transfers – wheelchair to bed, bed to chair, even in the bathroom, anywhere there is a lift and transfer need. Features include:
Constructed of aluminum: One person can assemble/disassemble the system in ten minutes
Top rail is adjustable up to 9 ft. in length. Can adapt to all beds and rooms
Posts can adjust up to 8 ft. in height
Weight Capacity: 440 lbs
Carrying case available to transport system to other locations
---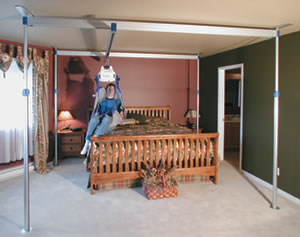 EasyTrack: The EasyTrack is a 2, 3, or 4-post system that can be adapted to fit almost any room layout. The EasyTrack is the perfect solution when a homeowner/facility is not interested in a permanently mounted overhead lift but needs to perform transfers around a room. With its pressure-mounted pole system the EasyTrack can be installed quickly but will leave no signs of its use on the floor, walls, or ceiling. The 3 and 4-post systems use a sliding gantry that allows the patient/resident to be transferred in both the X and Y direction. Features include:
Posts that can extend up to 9 ft
Specially designed bath posts. Allows for transfers into a bathtub.
Weight Capacity: 440 lbs
Adaptable. Can fit a wide variety of needs
---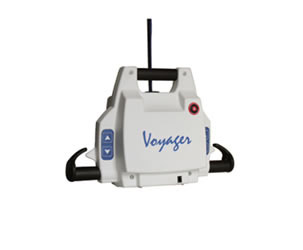 BHM Voyager: The BHM Voyager is a portable ceiling lift with the ultimate in versatility and flexibility. By using a rechargeable battery and weighing only 12 lbs. the Voyager can easily be removed and installed around a home or facility. Often times it is not feasible to run a continuous ceiling track throughout a residence or care facility so multiple tracks are installed. Instead of having to purchase a drive unit for each location a user can have one BHM Voyager and use it at each track location. Given the 440 lbs lift capacity and the wide range of BHM slings available, the Voyager can help with a wide variety of transfers. Features include:
Portable: Weighs only 12 lbs.
Integrated controls: Can operate the lift with or without a handset
24-volt Battery: Can be recharged in 2 hrs.
Versatile: Can be used on more than one track
Weight Capacity: 440 lbs
---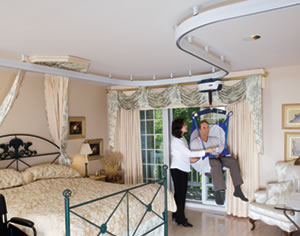 BHM V4: Take care of your loved one as well as yourself with the help of the BHM V4 ceiling lift. The most technologically advanced lift on the market, the V4 safely and effortlessly lifts and transfers individuals. The V4 operates in conjunction with the BHM Kwiktrack rail system to perform point-to-point transfers as well as room-to room transfers. Powered by a high-capacity battery, the V4 does all the work and then waits at its charging station for when you need it again. Features include:
Complete system: Does all the lifting and moving so there is no strain on a loved one
Versatile: Can be used by all ages, body types, and weights
Handset: V4 motor controlled by a hand-held remote
KwikTrack: Elegant looking rail system provides tracking for V4
Available in 440 lbs. or 660 lbs. capacity
To view before and after photos of Aging-In-Place Remodeling's most recently completed Ceiling Lift Projects visit our Ceiling Lift Portfolio.
---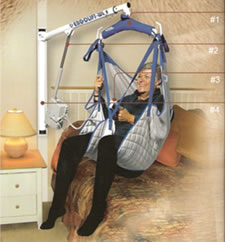 Ergolift-WL: The Ergolift-WL has been specifically designed for use in the home. If a homeowner is looking for the most affordable manner in which to safely transfer a loved one then the Ergolift is the answer. The Ergolift is perfect for transfers between areas such as bed to wheelchair, wheelchair to toilet, wheelchair to bath, wheelchair to chair, or almost any other point-to-point transfer. By adding additional mounting brackets around the home the ErgoLift can be can be easily removed and used in multiple locations around a home. By having a 350 lbs lift capacity and an arm capable of rotating 180 degrees the Ergolift can make all areas of your home accessible.
---
Slings: BHM has a wide variety of slings designed for different applications and transferring devices. Aging-In-Place Remodeling can assist you in selecting a sling but we recommend having a therapist or doctor familiar with the user's medical situation present during selection.
Hammock Sling: The Hammock is a general purpose sling that is good for a wide variety of applications. The sling provides full head and neck support and has double thigh padding for added comfort. The sling has multiple attachment points to allow for variable positioning of resident/patient. This allows the user to select the position which provides the most comfort and security.

Hammock 6 Sling: The Hammock 6 is similar in design to the Hammock but has a two additional harness points. These additional straps are designed for users who might need additional safety or are prone to agitation or involuntary movements.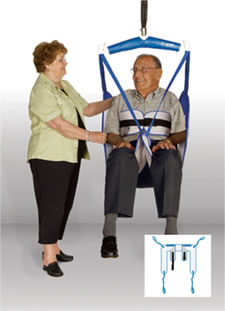 Hygenic: This sling is designed for personal cleaning needs. It allows care providers to remove clothing from residents/patients without removing the sling. To use this sling the resident/patient must have good upper body and head control with the ability to be in a seated position.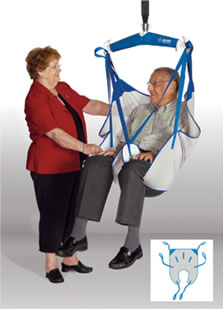 Quick Fit: This is a general purpose sling designed for residents/patients with limited upper body function but have good head control. The design makes this sling ideal for larger residents/patients.
---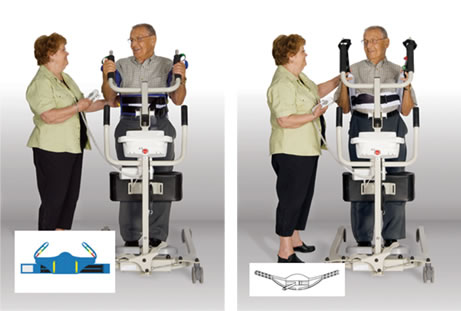 Band Sling and Chest Harness: These slings are designed to be used with the BHM sit/stand floor lifts and are meant for seat to seat transfers and hygienic needs. These slings can also be used in therapy to assist with weight bearing and balance.
---

Bariatric: This sling has a wider design and is meant for heavier residents/patients. The Bariatric Sling is used with the BHM V10 overhead lift with a lifting capacity of 1000 lbs.
---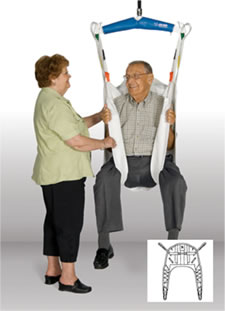 Combi: The Combi is a high-back sling that is designed to be used with BHM floor lifts. This sling supports the whole body as well as the head. This sling will position the resident/patient in the most upright sitting position possible and is ideally suited for those with limited control of their head and body.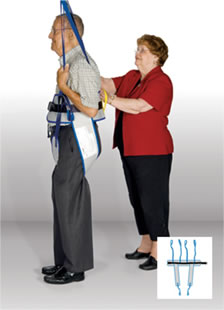 Walking: This sling assists in holding residents/patients in a standing position. Ideal for gait training, balance and assisting caregivers or rehab specialists due to the slings ability to give complete or partial support as needed. User must have some weight bearing capacity.