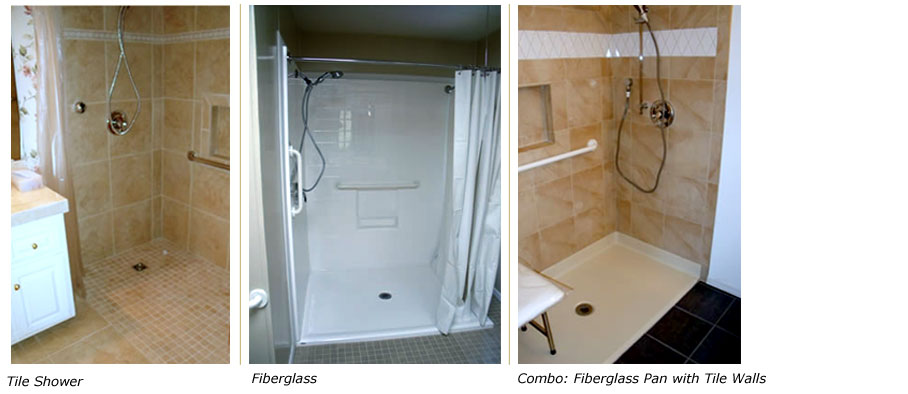 Aging-In-Place Remodeling is an accessible bathroom specialist. We have performed hundreds of bathroom remodels and the majority of which involved replacing an existing tub or shower with a new, barrier free shower. Many of our clients had bathtubs or shower stalls with thresholds that made the shower inaccessible and/or too unsafe. In every case we were able to install a shower which made our clients feel comfortable and secure while bathing. Given our vast experience with accessible bathrooms, we are able to create shower environments that benefit the user as well as a loved one that may be helping them shower.
---
Type of Threshold: Barrier Free or Roll-In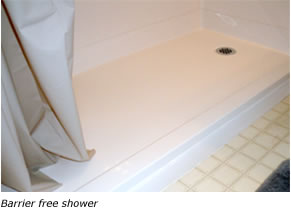 A barrier free shower typically has a threshold that is no higher than 2 ½". When one considers that the average tub step-over height is 15" and the standard shower threshold height is 6", it is obvious to see how much safer and more accessible a barrier free shower can be. A barrier free shower from Aging-In-Place Remodeling enables users with limited mobility to more easily step into the shower or move a wheelchair/walker over the threshold with minimal effort.
---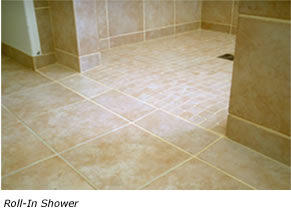 A roll-in shower is defined by the fact that it has no threshold whatsoever and allows for a seamless transition from the bathroom floor to the shower floor. Obviously, given the name, this type of shower is ideally suited for users in a wheelchair who need to be able to effortlessly enter/exit the shower area. To help contain water in a roll-in shower we install a vinyl waterstopper at the transition of bathroom and shower floor. This waterstopper is 1 ½" high and helps keep water from being splashed outside of the shower. Due to the fact that it is made of vinyl it will easily collapse when stepped on or rolled over.
---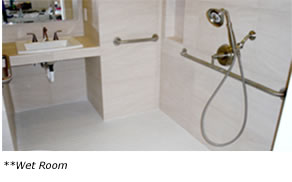 One last option to be considered is a wet room. A wet room is essentially a large shower that has a toilet and vanity in it. A wet room will typically have one or two central drains and all areas of the room will be waterproofed. This design allows for a very open area that creates the ultimate accessible shower.
**Aging-In-Place Remodeling constructed this wet room for a client that requested the most accessible shower area possible given the bathroom size.
---
Safety/Mobility Products for Your New Shower
Whether a client selects a fiberglass or tile shower there are always additional items that we recommend they consider. First and foremost are grab bars. Grab bars are standard in almost every shower remodel Aging-In-Place Remodeling performs. We recommend at least two and sometimes three bars be installed as part of the shower package. Second is a showerhead on a hose so a user has the ability to use the shower in either a standing or seated position. Our third recommendation is having us install an anti-scald valve which does not allow the water temperature to fluctuate more than 3 degrees once the temperature is set. Lastly, is a shower seat. Any shower or tub is instantly made safer and more comfortable once a seat is in place. Aging-In-Place Remodeling carries a wide range of seating options. Please see the "bath seats" section under the Bathrooms drop-down menu for seating choices available.
Visit our Portfolio of Aging-In-Place Remodeling's completed Barrier Free Shower Projects