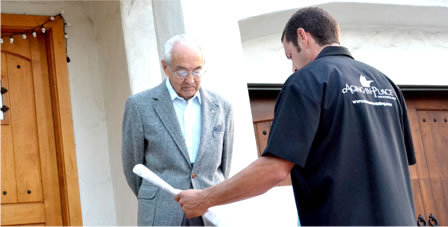 Aging-In-Place Remodeling is your one-stop solution for any accessibility and/or safety challenges you may be facing. Whether your mobility challenge is at home, in the workplace, or any other location we have the products and services to get you past any possible barrier. With offices in both San Diego and Riverside Counties we have performed hundreds of accessibility/ safety modifications throughout Southern California. We perform projects both big and small. Our service techs will handle your smaller job such as grab bar installations and ramp needs, while our remodeling team handles the larger accessibility projects.
All of our employees are specifically trained and familiar with the unique and often sensitive nature of the situations we work in. Our experience working with those with special needs, as well as the 3000+ mobility/safety products in our catalog, allows Aging-In-Place Remodeling to meet any of our client's requests.
While we have performed many projects for senior's looking to stay in their home longer, the majority of our projects are done for individuals facing a disease or disability. We have helped those facing a wide range of challenges including:
Parkinson's
ALS
Muscular Dystrophy
Cancer
Cerebral Palsy
Those recovering from traumatic Brain/Spinal Injury
Injury and/or surgery
Multiple Sclerosis
Aging-In-Place Remodeling is the preferred contractor for many of the organizations listed above. We are a fully licensed and insured general contractor with the CAPS certification.  All products and services guaranteed.  Terms and conditions of  guarantee are available upon request.